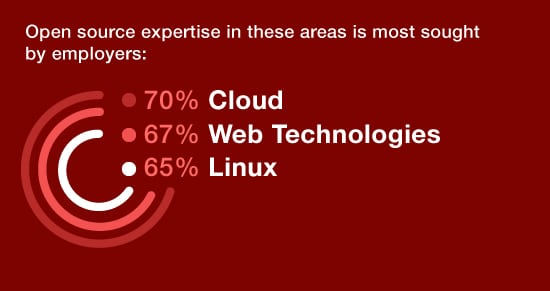 Dice® and The Linux Foundation have once again partnered to produce the annual Open Source Jobs Report, focusing on all aspects of open source software. The 2017 Open Source Jobs Survey and Report provides an overview of the trends for open source careers, motivation for professionals in the industry, and how employers attract and retain qualified talent.
Key Findings
Employers are struggling to hire open source professionals, with 89 percent of hiring managers finding it difficult to find talent.
Nearly half (47 percent) of companies are willing to pay for employees to become open source certified — up from 33 percent in 2016.
The most common positions employers seek to fill are: developer (73 percent), DevOps engineer (60 percent), and sysadmin (53 percent).
Skills most in demand include: Open source cloud (47 percent), application development (44 percent), Big Data (43 percent) and both DevOps and security (42 percent).
Focus on the Cloud
This year's report also reflects a huge push to the cloud and emerging new architectures such as containers and microservices, with cloud experience in high demand. Cloud technology such as OpenStack and Cloud Foundry ranked as the most sought-after area of expertise among 70 percent of employers — up from 66 percent in 2016.
This focus on the cloud also brings demand for skills in areas such as cloud migration, application integration, automation, data analytics, and security. Survey respondents expect such related skills to be of growing importance, as shown in the figure below.

This report, developed in partnership with Dice, features data from more than 280 hiring managers at corporations, small and medium businesses (SMBs), government organizations, and staffing agencies across the globe — as well as responses from more than 1,800 open source professionals worldwide.
You can download the complete 2017 Open Source Jobs Report now.

Latest posts by Clyde Seepersad
(see all)